Fortinet FortiAP-321C
Includes 1 x GE RJ45 port, dual Radio (802.11 b/g/n and 802.11 a/n/ac, 3x3 MIMO), Ceiling/wall mount kit included, Power adapter not included. For Gigabit PoE injector order: GPI-115. For AC power adapter order: SP-FG20C-PA
Overview:
FortiAP are thin access points, delivering secure, identity-driven WiFi access for your enterprise network, managed centrally by the integrated WLAN controller of any FortiGate® security appliance. With the integration of the wireless controller functionality into the market leading FortiGate appliance, Fortinet delivers a true Unified Access Layer. This enables you to easily manage wired and wireless security from a Single Pane of Glass management console and protects your network from the latest security threats.
Indoor Enterprise WLAN Deployment
FortiAP indoor WLAN access points come in a range of form factors and performance profiles, with a model to suit any indoor enterprise wireless LAN deployment. Smoke detector style models provide a discreet look to prevent tampering. Other models are equipped with external antenna connectors, for use with directional or panel antennas, while the plenumrated models support the extended temperature range required for installation in ceilings.
Highlights
Supports latest 802.11ac technology with association rate of up to 1.3 Gbps.
Leverage existing FortiGate or FortiWiFi platforms as controllers for low TCO.
Integration with FortiManager and FortiAnalyzer for centralized management and reporting.
Fast Roaming for uninterrupted data access.
Automatic Radio Resource Provisioning (ARRP) for optimized throughput.
Layer 7 application control prioritizes business traffic.
Rogue AP detection and mitigation to satisfy PCI DSS compliance.
Deployment: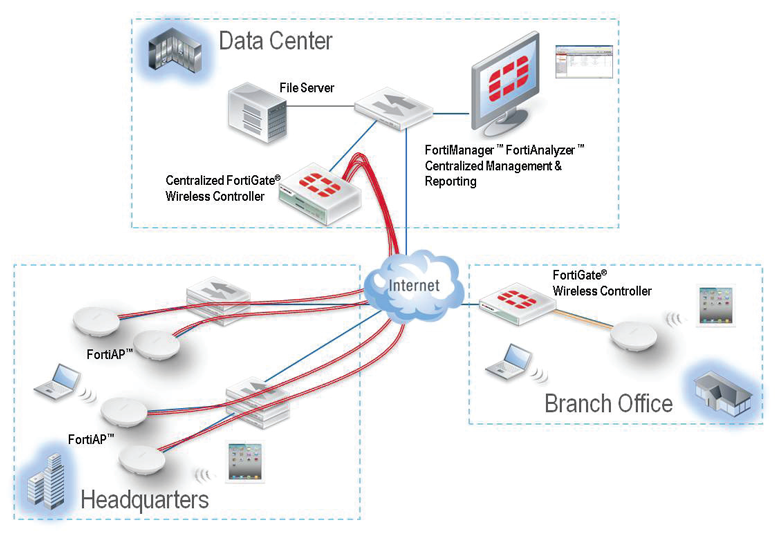 Centralized or Local Wireless Controller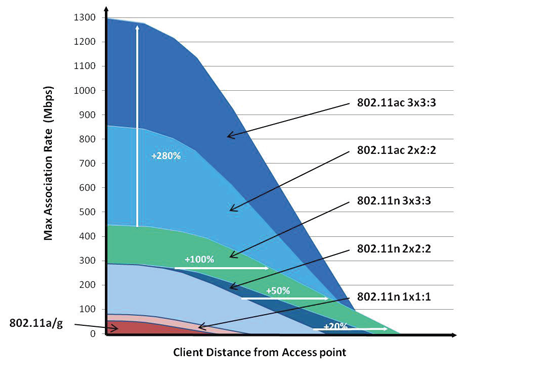 Maximum Client Association Rates
Antenna Radiation Patterns:
Specifications:
FortiAP 321C
Hardware
Hardware Type
Indoor
Number of Radios
2
Number of Antennas
6 Internal
Peak Antenna Gain
4 dBi for 2.4 GHz, 5 dBi for 5 GHz
Frequency Bands (GHz) *
2.400–2.4835, 5.150–5.250, 5.250–5.350, 5.470–5.725, 5.725–5.850
Frequency of Radio 1
2.4 GHz b/g/n
Frequency of Radio 2
5 GHz a/n/ac
Throughput
Radio 1: Up to 450 Mbps, Radio 2: Up to 1300 Mbps
Tx/Rx Streams
3x3 MIMO with 3 spatial streams
Ethernet Ports
1x GE RJ45
USB Port
–
Serial Console Port
–
Power over Ethernet (PoE)
IEEE 802.3af (12.9 W)
WME Multimedia Extensions
Yes (4 priority queues for voice, video, data and background traffic)
Simultaneous SSIDs
16 (14 if background scanning enabled)
EAP Type(s)
EAP-TLS, EAP-TTLS/MSCHAPv2, EAPv0/EAP-MSCHAPv2, PEAPv1/EAP-GTC EAP-SIM, EAP-AKA, EAP-FAST
User/Device Authentication
WPA™ and WPA2™ with 802.1x or Preshared key, WEP and Web Captive Portal, MAC blacklist & whitelist
Maximum Tx Power
20 (100 mW) *
Physical Security
Kensington Lock
Mean Time Between Failures
> 10 years
IEEE Specifications
802.11a, 802.11b, 802.11e, 802.11g, 802.11h, 802.11i, 802.11j, 802.11n, 802.1x, 802.3af, 802.11ac
802.11ac 80MHz Channel
Yes
802.11n Features
20 MHz and 40 MHz High-Throughput (HT) SupportIncreased maximum frame transmission by incorporating A-MPDU and A-MSDU Packet AggregationConserve power via Dynamic MIMO power save
Advanced 802.11n to enhance rate-over-range including:
Low-density parity check (LDPC) encodingMaximum likelihood demodulation (MLD)Maximum Ratio Combining (MRC) for improved receiver performance
Mounting Options
Ceiling, T-Rail and wall
Included Accessories
Ceiling, T-Rail and wall mount kit
FortiPresence Capable
Yes
Wireless Monitoring Capabilities
Frequencies scanned
2.4 and 5 GHz
Background scan with client access on 2.4 and 5 GHz
Yes
Full-time scan as dedicated monitor
Yes
Full-time scan with client access on 5G GHz
Yes
Dimensions
Length x Width x Height
6.3 x 6.3 x 1.66 inches (16.2 x 16.2 x 4.2 cm)
Weight
0.77 lb (0.35 kg)
Package (shipping) Weight
1.33 lb (0.6 kg)
Environment
Power Supply
Adapter Input: 100–240V, 50/60Hz, 0.4A Output: 12V DC, 2A
Power Consumption (Average)
4.9 W
Power Consumption (Maximum)
12.48 W
Humidity
5–90% non condensing
Operating Temperature
32–113˚F (0–45˚C)
Storage Temperature
-4–140˚F (-20–60˚C)
Directives
Low Voltage Directive • RoHS
Certifications
WiFi Alliance Certified
No
Warranty
Limited Lifetime Warranty
Yes
לקבלת הצעת מחיר למוצר זה השאירו פרטיכם כאן, ונשוב אליכם בהקדם!
מוצרים נוספים